A comprehensive, step by step guide to organizing all about reading level 1. In this post I share the complete 10 steps to get you from opening the curriculum in the mail to starting your lessons so that you can make the curriculum seamlessly open and go. So keep reading if you are needing help organizing all about reading level 1.
In my other post about All About Reading Level 1, I talked about why I love it and how much it helped my struggling reader. I also told you about how I organized it in such a way that it made it wonderfully open and go. Like, zero stress open and go. So today I am going to be giving you my very comprehensive method of how I organized it so that you can have smooth sailing on your reading journey too! So let's get started!
1. Buy All About Reading Level 1
The first thing you will need to do is buy the curriculum. For this organization method, I use these materials from Level 1 that you can buy from the All About Reading website.
The Teachers Manual
The 3 Readers
The Activity Book (Student Packet)
Ziggy Game Book
Basic Reading Interactive Kit. If you want the review box, get the Deluxe Reading Interactive Kit
I personally love the Ziggy games and any way to add games into the curriculum is a win over here. So I would suggest getting that. But that is optional! And don't worry, I will show you how to organize them if you do get them.
2. Buy extra materials that you will need.
I already went through the whole curriculum for you and made a list of everything you will need if you want to make this curriculum all that it can be. This will also ensure that the curriculum is open and go and that you will have ZERO stress everyday of the lessons. So go ahead and buy these now and I will walk you through how to organize them below. A lot of these you may already have at your house so just grab this list and mark off what you have and buy what you don't.
List of Extra Materials for Organizing All About Reading Level 1
55 hanging file folders
12 manilla file folders
Tape
Glue stick
11 sandwich bags
Scissors
Fly swatter
5 sheets of plain white computer paper
Highlighter
Outdoor Chalk
Toy car
Dice
Magnetic white board
Exacto Knife
Paper clips
Letter stamps (or just markers if you don't want to buy them)
2 beginner coloring sheets
Plastic cups
Construction paper
Basket to put materials in
Filing cabinet or filing bin.
2 balls (blow up ball or cheap play ball that you can buy at store)
300 index cards
M and ms or small candy of choice
Board game
Salt tray or sand tray
Sticker dots
Stapler
3. Make files for all the lessons
There are going to be 53 lessons, so make a hanging file for every lesson. This is an important part when organizing all about reading level 1 because it will keep everything so organized. Put Lesson 1, Lesson 2, Lesson 3, etc into each tab. Also make a file for Ziggy's Travels and a Miscellaneous file. So you should have 55 hanging files total all with tabs. Put these into a filing bin. I use one like this. But there are some cute fabric ones too. Or just use a filing cabinet that you have!
4. Print off and copy extra papers and cut spine off Activity Book and Ziggy Games Book
Once you have gotten all the materials from Steps 1 and 2 and made the files from Step 3, you will need to get some extra things printed off and some things cut. I do all of this at Staples because we don't have a printer here yet but if you have a printer feel free to do those parts at your house.
Here's what to do
Get the spine cut off the Activity Book and Ziggy Games book so that you have loose papers. I used an exact knife to cut all the sheets out so you can do that if you want. But, personally, I wish I would have just gone to Staples and gotten the spine cut off. Do whichever time and money allows for though! Set aside. We will get to these in a bit.
Make a word search that you will put into a lesson. Go here and make it. Put in these words: web, red, den, wet, men, fed. Print off the word search. Stick it in the Lesson 14 hanging file.
Get the two coloring sheets you collected (you can just tear out some pages from a coloring book you have, print off two coloring sheets online or buy a cheap coloring book). On the first one, put the letters y, c, r, d, f, g, v, z, I, k, and h in different spots all over the page so the kid can "color in" the letters to eventually color the whole page. Stick that in the lesson 8 filing folder. Get your other coloring sheet and write g, o, a, i, and c in different spots on the page. Stick that in the Lesson 46 hanging file folder.
Go to pages 375, 377 and 379 of the Teachers Manual and copy those and then cut them. You can just cut them out of the teachers manual. I copied them and then cut them so that I didn't ruin the teachers manual. I copied them in color so they were still fun looking. Cut out the monster, put a slit in his mouth with your paper slicer and set aside. Then cut out the splat graphic and set aside. Cut out all the emojis and paper clip them together. Set aside.
5. Create manipulatives and put extra materials into a bin.
Now get a bin and you are going to put the materials you bought in there so they are all in one place when lesson time comes. You are also going to make a couple of things to put in there as well. Ok so put these things in there that you bought or had.
Buy or grab from your house these items
M and M's
Toy car
Highlighter
Dice
Outdoor Chalk
Glue
Next we are going to make a couple of things to put in the bin.
Tape the splat graphic that you made in step 4 to a fly swatter. Put it in the bin.
Put the monster you made in step 4 in the bin.
Crumple up 5 pieces of white computer paper and tape them into balls. You are making "snow balls." Put them in the bin.
Put the cut up emoji cards that you made in step 4 (that are paper clipped together) into the bin.
Get 6 plastic cups. Turn them upside down. Get construction paper and cut little pieces of paper that say sh, s, the, I, ch and ck and tape those onto the cups. Stick in the bin.
Finally we are going to put some of the things that came with your All About Reading Level 1 kit into the bin.
Level 1 Viewfinder Bookmark
Progress Chart
Progress Chart Stickers
6. Set up the magnetic board
Alright, now it's time to set up that glorious magnetic board that is going to make reading SO much easier for your kiddo. Go ahead and put the board up where you want it and then punch out the pieces for it you got in the mail and put the magnets on the back of them. Get 2 sandwich bags and label 1 "Level 1" and the other "Levels 2-4." Put the pieces on the board that are on page 36 of the teachers manual and all the rest in the sandwhich bags based on level. Put the sandwich bags into the bin.
7. Cut out the activity sheets and file
Now it's time to get the papers from the activity book that you had the spine taken off or cut out yourself. Go through each lesson of pages. Cut out on the dotted lines where it tells you to and paper clip the loose pieces to the page that it goes to. Then stick that in the file with the corresponding lesson.
For example, lesson 1 has a word match activity. Cut out the words: map, Sam, Pam and sap. Then paper clip them to the page "Lesson 1 Word Match" that has the pictures. Then file it in the lesson 1 hanging file. That way, when you go to do lesson 1, all the kid has to do is match the words up to the pictures and glue. Do this for all of the lessons. There are some that you are going to have to staple so grab a stapler too.
Yep, this is going to take a while. Get a fabulous podcast going, grab some coffee, plop your booty on the floor with all of these and let's get organizing! Trust me, you are going to be SO happy you did this!!
8. Organize Flash Cards
This part is simple. Just punch out the cards you were given when you got the curriculum and put them into either the box you got or another small box. I would suggest that you get the box they sell or make one that is the same size. Having those organized and upright is so nice!
9. Make Index Cards to Put into Lessons
You are getting so close to finishing your organizing of all about reading level 1! So now let's move on to using the index cards I had you get. Many of the lessons require you to make some index card flashcards for different games or activities. If you do these up front it is going to save you a LOT of stress. I will tell you what to make and which lesson to put them into so you don't have to worry about. Get a pencil to do this with as you don't want the child to be able to see through the index card. So get those blank index cards you got and lets get started!
What to write on the index cards
Get 9 index cards and write 1 letter on each: n, c, d, t g, p, m, b and y. Paperclip them together and put them in the Lesson 4 hanging file.
Get 20 index cards. Each letter is going to be done twice. So write the letter k on two index cards and then do the same with r, c, p, h, g, m, a, h and n. Paperclip those together and put them in the lesson 6 hanging file.
Get 24 index cards. Once again for each letter do two cards. So write "qu" on two index cards then i, x, f, v, z, o, w, l, s, u and e. Paperclip together and put in the lesson 16 hanging file.
Now you need 20 index cards. Write each word on two different index cards. So that each word is written twice. Write: this, dish, shop, shed, cash, ship, wish, fish, math and shut. Paperclip these together and put in the lesson 22 hanging file.
Get 20 index cards. Each word will just be written twice again. The words are: this, box, bank, stick, tell, west, chip, long, step, shut. Put these in the lesson 39 hanging file after you have paper clipped them together.
This time you will only need 6 index cards. Each sound will get only one index card. Write: th, sh, ch, ck, ng and nk on separate index cards. Paperclip these together and put them in the lesson 43 hanging file.
10. Organize the Ziggy Games
There are 9 Ziggy games and we are just going to do them all at once. Since you already have them in loose leaf papers, we are going to move on to put them into their files. Get your Manila folders. You will need 11 of them. For the first manila folder, put the picture of Ziggy on the inside of it. Then store this in the hanging file you labeled "Miscellaneous." For the next manila folder, put in the Ziggy Travels pictures. Then stick this in the hanging file folder you labeled "Ziggy's Travels."
For each game you are going to use one manila folder. Glue the game board on the inside. On the front of the manila folder tape the overview of the game. Tape just the sides and bottom so that you form a pocket for things to go into. Cut out the game pieces and put them into a sandwich bag. Also cut out the instructions and put both inside that little pocket you made. Last thing to do is put the label at the top and file them into their corresponding lesson hanging folder!
Which lesson file folders to put the Ziggy games in
Apples for Ziggy- Lesson 1
Ziggy at the Market- Lesson 2
Ziggy at the Beach- Lesson 3
Treasure Hunt with Ziggy- Lesson 4
Ziggy Teaches School- Lesson 6
Caving With Ziggy- Lesson 19
Ziggy Rounds Up Horses- Lesson 33
Ziggy Plays with Penguins- Lesson 44
Blast Off with Ziggy- Lesson 50
Also, the Ziggy games are not mentioned in the teachers manual. So get your teachers manual out and at the end of each lesson above, write "Play Ziggy Game." That way you know when to play it. And thankfully, it's also in the current lesson file folder so that will also help you remember!
You have now finished organizing all about reading level 1!
Congrats! Your reading lessons are going to be seamlessly open and go. What I do at the beginning of each phonics time is grab all my stuff. So grab
The teachers manual
The reader your child is on
The file folder of the lesson you're on
The bin with all your extras
The flashcard box
I stick all of those next to me on the table so I literally don't need to get up for anything. It is ALL right there. And it is ALL prepped and ready to go. Set your timer for 20 minutes and now you can fully focus on the most important thing…which is your child!
I hope this has been a help to you. If you have any questions or need anything cleared up, please reach out to me in the comments below!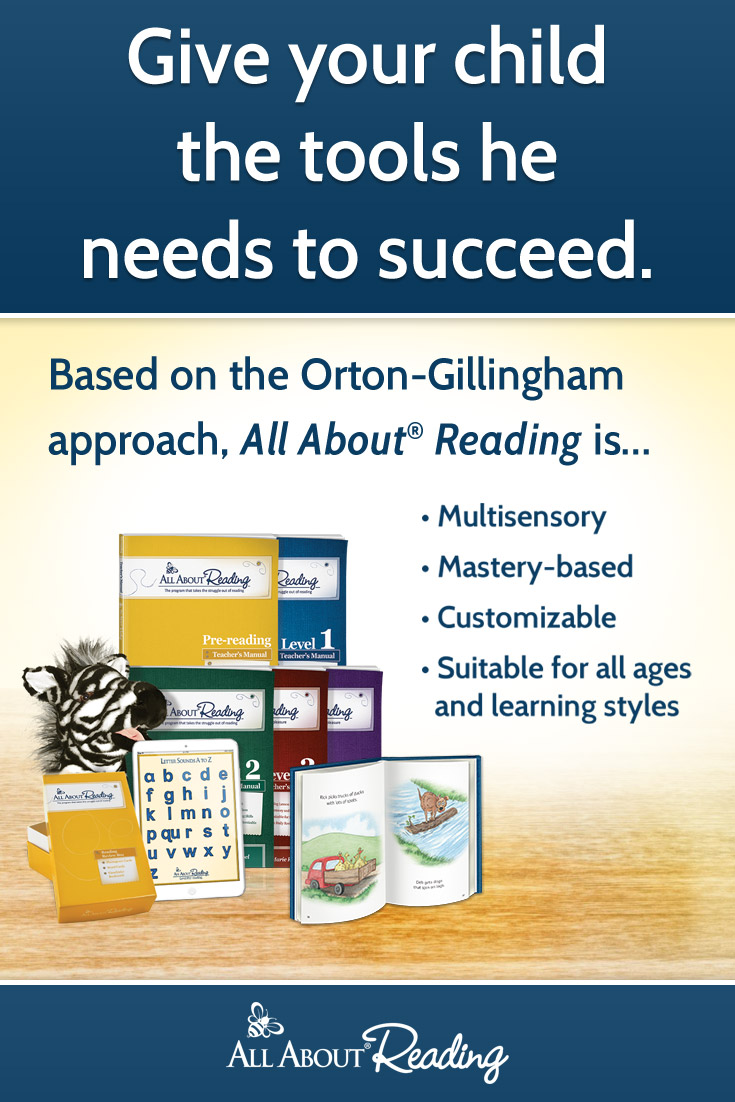 Find More Homeschool Help
All About Reading Level 1 Review
A Simple Homeschool Schedule When Homeschooling in a Hard Season
10 Best Open Ended Toys for Homeschoolers that Promote Independence
Pin It